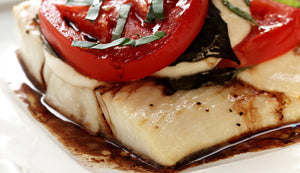 Delicious, individually hook and line caught, wild, sustainable Alaskan halibut portions are an Alaska treasure! Whether you're making halibut Olympia, sandwiches, fish and chips, or soup, it's an Alaskan and regional favorite! 
There are 2 options for Halibut Add-Ons:
1lb pieces: These pieces are vacuum sealed together into a 1 lb package

7-9 oz portions: Flash frozen and vacuum sealed
They have an industry standard shelf life of 2 years, meaning they will remain high quality for the duration of the shelf life. 

Price is listed as price per pound.
Sitka Local Pick-up Only
Regular price $28.00 $25.20 Sale