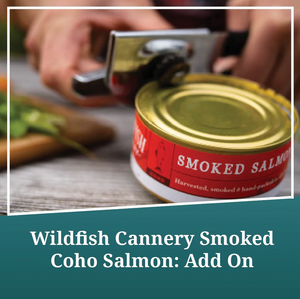 This Smoked Coho salmon delivers big, traditional flavor with a salty brine and alder smoke notes. The Coho are troll caught out of Craig, Alaska and seasoned with salt, pure cane sugar, garlic, black pepper, and all-natural wood smoke. The flesh is dense, meaty and flakes easily— it's a pantry staple, and a wonderful addition to any grain bowl or sandwich, where it adds a rich dose of umami and smoke. It can also be used to elevate the flavor and richness of (and add protein to) your favorite comfort foods.
We are excited to be partnered with Wildfish Cannery to bring delicious and healthy smoked salmon to you.
There is a separate shipping charge of $8.55 for smoked coho salmon add-ons.
Alaskans Own
Regular price $13.00 Sale